LIGHTNING CABLE USB-C I KEVLAR® BLACK:
Reimagine ChargingDiscover the extraordinary strength of Kevlar® technology in TOTEM's USB-C to Lightning Cable. Designed to transcend the ordinary, this cable embodies unparalleled durability, speed, and reliability, offering a charging experience that sets new standards.
Lightning Cable USB-C I Kevlar®
Product Information
Care and warranty
Manufacturer Details
Not just any charging cable, TOTEM cables were forged from superior quality materials for ultimate durability. Kevlar® fibers reinforce the inner wiring for added strength, abrasion-resistant nylon forms a tough outer jacket, and highly flexible insulation minimizes damage from friction.
The strength created by these resilient ingredients ensures the cable can withstand even the most demanding routines, and perform above and beyond expectation to deliver a cable that borders on indestructible.
5-Year Warranty: Designed to outlast your device. Every component of this cable was selected for durability and reliability.
Built to Endure with Durable Alloy Housing:
Crafted for the long haul, each connector is enveloped in a robust metal housing that speaks of its endurance. Backed by our 5-year warranty, this cable is engineered to withstand the rigors of time, becoming your reliable companion in the realm of charging.
Rapid Sync and Enhanced Protection:
This cable isn't just about charging; it's a symphony of efficiency. Featuring 2X RF Shield for Fast Sync, your data transfer is seamless and rapid. Alongside, the 2X thick moisture barrier adds an extra layer of protection, safeguarding your cable from the elements and ensuring longevity.
Ultra Flexible Design for Unrestricted Use:
This cable isn't just about strength; it's about adaptability. With an ultra-flexible design, it easily maneuvers to fit your daily charging needs. Whether you're on the go or settling in, this cable effortlessly accommodates your every move while providing steadfast performance.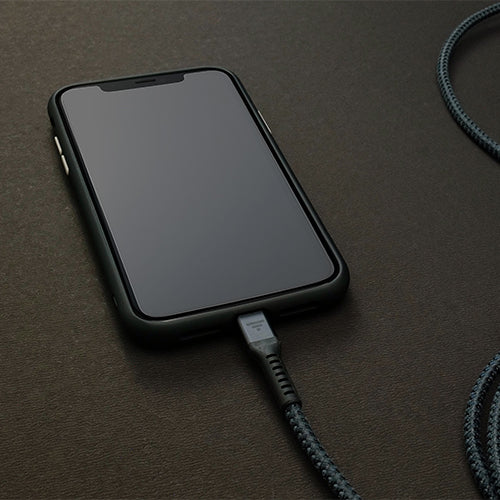 18W Fast Charging for Swift Power:
Elevate your charging game with lightning-fast speeds. With 20AWG wiring optimized for rapid power delivery, experience the ability to go from 0 to 50% charge in a mere 30 minutes, ensuring you're always geared up and ready for whatever the day brings.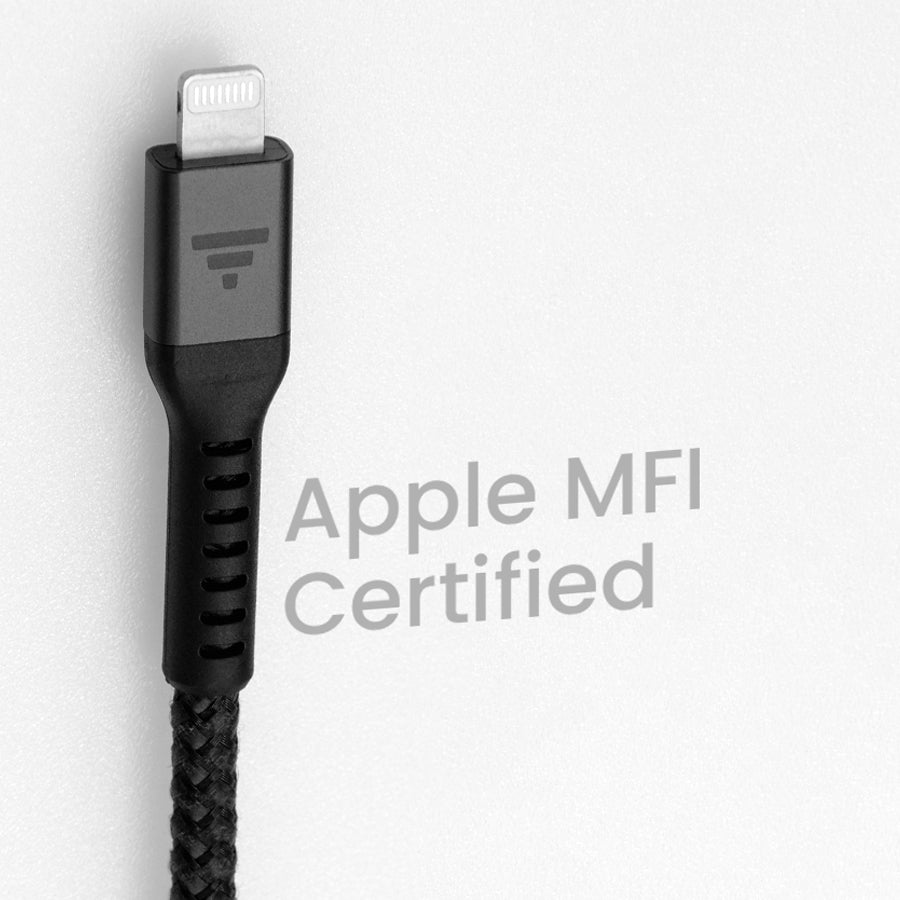 Apple MFI Approved for Seamless Compatibility:
Trust in our unwavering commitment to quality. Our cable holds the esteemed Apple MFI approval, guaranteeing a seamless connection with your devices. It's more than just a cable; it's a bridge to effortless and efficient charging.